Testimonials from clients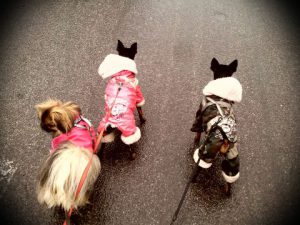 "Pawz has been a reliable support for me after relocating to Prague from Finland with my two miniature pinschers. My dogs Nipsu and Kimi love to go for walks with Mirka. Pawz team is very professional and responsible. I can highly recommend Pawz services to dog owner who need regular support with walks and want loving care for dogs."
– Virve S.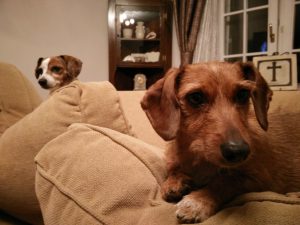 "We travel a lot and don't always get to bring our dogs with us. It has been so wonderful to have Pawz come in and take such good care of them while we are away. We feel at ease knowing that are dogs are getting the same care and attention they would get if we were at home. My only worry is that my dogs may like our Pawz caretaker more than me!"
– Courtney, T.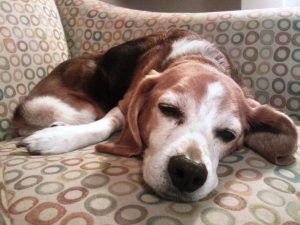 "Being a new resident of Prague, it was great to find a pet sitting service so eager to help and we want to thank the staff at Pawz for making us feel welcome! While we are away, up until our return, they have always kept us informed, regularly checked in, and ensured Max was taken care of. Allowing us to focus on work or enjoy our holiday without any concerns has been a great relief. Knowing how much a handful Max can be, we are pleased we chose Pawz and would not hesitate to use their service again or to recommend them to our friends!"
– Brian K.
"My senior dog Stimpy can be high maintenance with all that is involved to keep her happy and healthy. Martina took very good care of her when we were away for twelve days. Stimpy got the same level of customized care as she would at home."
– Selma M.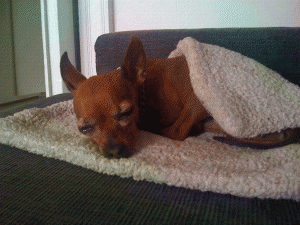 "Pawz is the only service I trust to watch our pražský krysařík Maxík. Pawz provides the same love, care, and daily schedule Maxík has when he is home with us. Maxík is happy and we are too!"
– Katie P.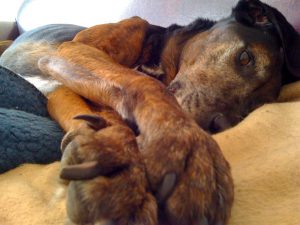 "I was very pleased with the service we received from Pawz and would happily recommend it to anyone who needs to leave their dog for any length of time. Pawz are efficient, knowledgeable and take the time to get to know the dog as an individual making sure that all their needs are met. My dog was happy and contented on my return, and had obviously enjoyed my absence!"
– Becky R.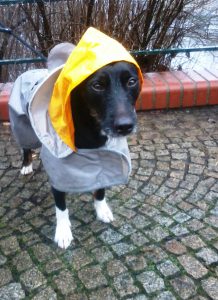 "It has been a relief to have someone you trust to help with the dogs when life is stressful and you don't have enough time."
– Jessica A.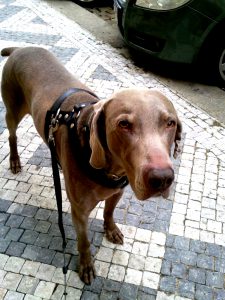 "Pawz are truly a professional and flexible. They tailor services to client's needs as best as possible, even when there are last-minute requests. Our dog simply loves them. It'd be hard to find a better dog care (and we've tried out a few others!)"
– Irena G.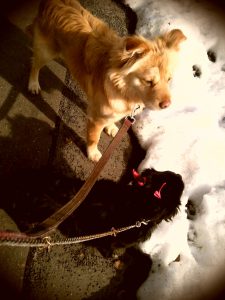 "I absolutely love Pawz! I recently went away for two weeks and when I came home, my dogs were happy and healthy. There were also a few little treats that were left for my mutts as well. I know that the dogs were walked because, one, my landlord said he saw them being walked every day, and, two, when I got back, my dogs were on their new walking schedule getting me up a lot earlier than I'm used to. It's wonderful to know that there is a trustworthy and reliable pet sitting service right here in Prague."
– Ely A.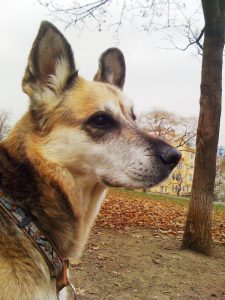 "We have had help from Pawz for over a year now; we started with weekly walks for our very nervous, rather elderly German shepherd mix. Zoe is a shy, eccentric old thing and doesn't trust new friends easily but our Pawz walkers won her over, and we were able to leave her in their hands for Wednesday walks. With incredible flexibility and loving care, Martina has since supported us through demanding work schedules, changing needs due to Zoe's health and age, even a move from one neighbourhood to another.
Finally, just recently, we were able to have our first vacation together in a very long time, thanks to the fact that we and our two furry family members – Zoe and her cat friend Simon – trusted her. She took care of their needs at home, for nine days. We got updates daily, a possible health issue was identified and quickly conveyed to us in a no-panic but detailed manner so we could decide if a vet visit was necessary or not, and the sick patient was carefully tended to at home through her tummy troubles. Simon's morning Chorus of Meowing did not deter our sleep-deprived sitter from her duties, the hair on EVERYTHING from our fuzz machine Zoe was all in a day's work, their funny personalities were accommodated for and we know that they had all the care they needed.
We were able to relax; and when we got home we found two well kept animals and a clean, tidy flat. We thank you Pawz with all our hearts. You are worth your weight in gold for anyone with animal friends in Prague. Martina has a very special quality of being able to make everyone feel quietly cared for, not just the pets but the frayed, stressed, rushing owners too."
– Melanie & Larry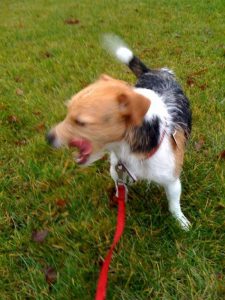 "We contacted several dog walking providers in Prague, some did not answer, some answered a week later, some did not speak English. After emailing Pawz we received a follow-up intermediately with all the information we needed. You can see the same responsiveness in everything they do.
We are very happy with the service, not only because it is professional, but also because of the dedication and care Martina and her team put into it. They provide constant updates, extra care when needed (our dog was sick for some time) and flexibility with scheduling. We highly recommend Pawz services."
– Cesar, R.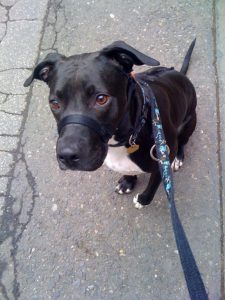 "Reliable and professional. Everything works as agreed on at 200%. I really appreciate the updates about each walk. You obviously enjoy what you do, and my dog is very happy!"
– Marcela, M.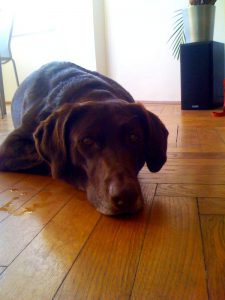 "After two visits we are very satisfied. Pawz has taken great care of our Lab, Annie. We love the daily updates and pics of her adventures while we are away."
– David, B.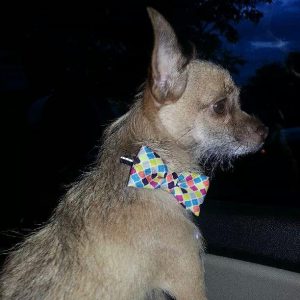 "This was by far the best service I've experienced with pet care, not only here in the Czech Republic, but also in the US too. The staff was very friendly and knowledgeable; I felt comfortable leaving my dog in their care. I would highly recommend Pawz any day for pet care!"
– Katharine, W.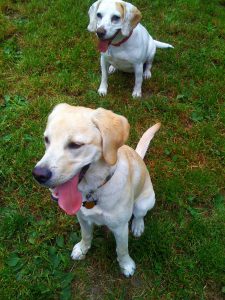 "We moved to Prague in January 2014 with our two dogs, to Vinhorady. We have a nine-year-old beagle, Chip, and a seven-months-old labrador, Maxi. We needed somebody of trust to walk them for an hour on a daily basis. Pawz seemed very professional from day one. They replied to our request right away and came for a visit to meet us and the dogs before their services began. They love dogs and treat them with love and care. They are always on time, they honor the timings of the walks and our dogs always come back happy and relaxed after a walk. You can not ask for more!!"
– Maria, R.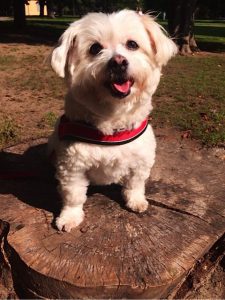 "After looking at the websites of several pet care services in Prague, I finally had the sense to check some Expat sites and the PAWZ website won, hands down, for style and content. Martina answered my first e-mail almost after I had hit "send". We set up a meeting with her and a trainer, Líza, and I felt completely confident at first sight. Now, some months later, we are also using the dog-walking services every day of the week, and the walkers have all been wonderful, and Sami loves them all. Meanwhile, Líza is working wonders with Sami, who is nearly thirteen and very set in his very bad ways. Who said you couldn't teach an old dog new tricks? Whoever it was didn't know Líza! Hats off to Martina, who has assembled a brilliant team and runs a very professional, well-organized, and much-needed service! Thank you to everybody at PAWZ!!"
– Priscilla, de C.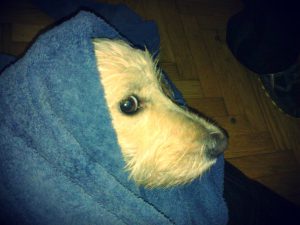 "Pawz offer a great service where they not only walk your dog but send you regular updates as to how your dog is doing."
– Ruth and Neil, P.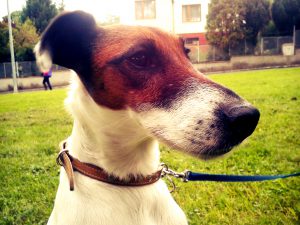 "Pawz are professional in every aspect (presentation, the services they offer, continuous education). They always let us know if everything is okay with Fox, and sometimes they send us a Facebook photo. I give them big thumbs up. For our family, they are definitely a find of the year!"
– Monica & Julien, F.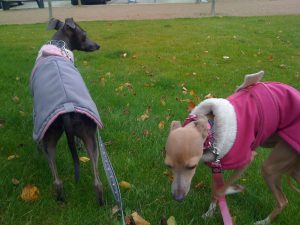 "My husband and I have always thought that it would be easy to find a sitter or a pet hotel for our dogs. But that was before we got them, fell in love with them, and found out that we can't entrust to just anyone. Since we enjoy travelling, it was something we had to deal with a few time a year, and it was never easy. We didn't like the hotels and our family couldn't take care of our girls. We are both anxious owners and are picky about where we leave our dogs when we go, especially since one of them has a chronic health condition. Planning for a weekend get-away, my husband found Pawz. They'd come stay with our girls, walk them, cuddle them—I was sold. After meeting with Martina, I was super happy with her approach. The sitting was pure fun for our doggie girls—they had a friend at home who fed them, played with them and walked them. I think they didn't even notice us gone. I've also tried out their walking services and was really pleased. So from now on, only Pawz."
– Lucie, C.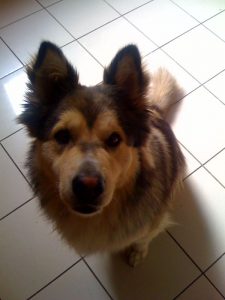 "Our three dogs had a little vacation when Martina sat them. You know and love your work, and we can see that. Every morning, I received SMSes and MMSes, and more photos through email, about how the boys were doing and what they were up to. I'm a very anxious owner, and it took me a long time to be able to entrust my doggies into someone else's care. Thanks to Pawz, I can actaully go on a holiday and not be worried about my boys. And they are so well-priced for the quality of service they provide. Thanks, Martina!"
– Iveta, V.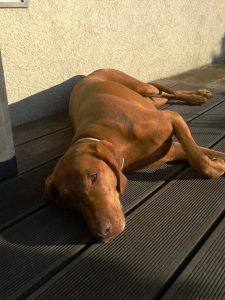 "I was really pleased with not only the care Mirka provided for our pooch, but also the competent and responsible approach to managing the household while we were gone. The regular SMSes we received from our doggie au pair gave us a great peace of mind."
– Olga, T.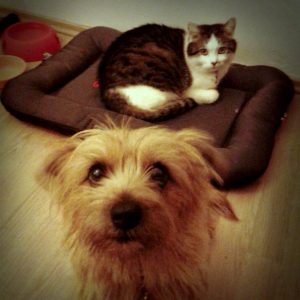 "Mirka is lovely. She looks after Emili perfectly. She updates me with photos and text messages and I feel totally relaxed knowing that my dog is getting top-class care. Thank you! I totally recommend using Pawz if, like me, you need to know your dog is happy so you can be happy."
– Whitaker, K.
"Reliable and friendly walkers. Not once has anyone missed a walk. Flexible and forthcoming. I definitely recommend Pawz!"
– Ivana, D.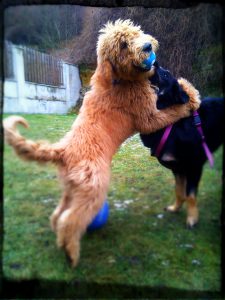 "Our dog Ferris has really enjoyed his walks and play times with the staff from Pawz. They are always friendly and happy to take Ferris and are always easy to communicate with about questions or concerns. Pawz staff are so friendly, very reliable and professional! Thank you for everything!"
– Sarah, M.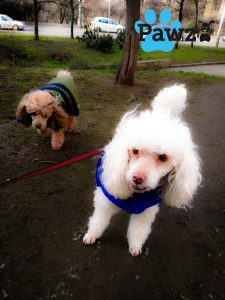 "I have two poodles – one of my boys is a senior (14 years old) and the other has epilepsy and requires medication every 8 hours. My dogs are my children and like all babies, can sometimes be a handful! I work my schedule around my dogs but every now and then I need help coordinating walks and medication. Once I found PAWZ I knew I had the perfect combination – the PAWZ team is professional, responsible and caring. PAWZ also helps me to keep my sanity on the days when I can't do it all – I honestly don't know what I would do without Martina, Mirka and Stephanie. If you are looking for a team of professionals who really love dogs and will treat them with as much love and care as you do, please look no further. All of your pet care needs will be satisfied with PAWZ, and if my dogs could write a review they would tell you the same! PAWZ is simply the best around, a perfect 10!"
– Elena, S.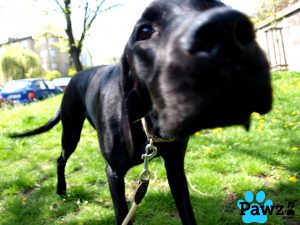 "We've been really happy with Pawz! When things get especially busy for us, it's great to have this kind of service in our area. We especially appreciate the ability to make a last-minute request if something comes up. Our dog Tilly always looks forward to seeing any of the team members from Pawz!"
– Bob, D.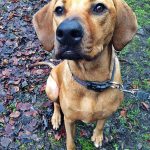 "I'm very happy with the service provided by Pawz. My dog Frankie loves her walkers. They are also very accommodating, as our schedule changes often and I feel at ease during my work day knowing my dog is being well taken care of."
– Dominique, R.